Nexus Nikon D3/D3x Digital Camera Housing

The new Nexus D3/D3x housing comes with two Nikonos type bulkheads
This Nexus Housing for the Nikon D3 and D3x Digital SLR is made to use the M4 port size.
All the earlier Master - M5 Size Ports and Accessories or the newer M6 ports and accessories can be used with an optional M4 to M5 Adapter ($200.00) orwith an optional M4 to M6 Adapter ($200.00)..
Housing Body Price - $4199.00
The Nexus D3/D3x Housing Body comes with a Convertible Idler Gear inside the housing body to allow shooting the new 105mm AF-S Micro Nikkor lens. Two outer gear halves are removed to reveal a smaller gear when the new and much larger Micro Nikkor 105 AF-S VR lens is used.
The Nexus D3/D3x housing body also comes with a M-S-C Servo Control Switch to change modes between Continuous, Single, and Manual Focus Modes and now has a lens removal button to ease lens changes.
New Inon Rotateable Optical 45° or Straight Viewfinders are available as a retrofit for the D3/D3x housing body - Now User Installable - $855.00ea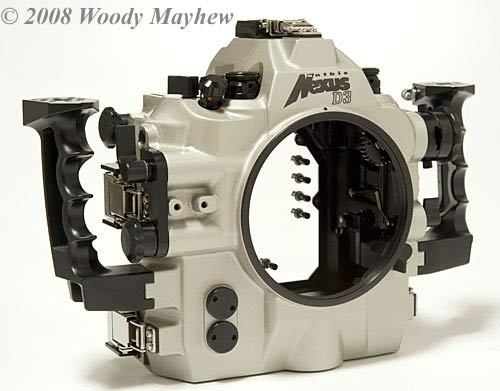 Nexus D3/D3x Housing Body Front View
The Nexus D3/D3x housing body is equipped with:
Push Buttons or levers to access functions on the D3/D3x camera:

Four corner Multi Selector control
AF Area Mode Selector
Monitor button for image review
Menu button
Thumbnail button
Protect button (Key Icon button on camera)
Enter button
Focus Area Lock Switch
Format/Delete button
Shutter Release and AF Hold lever
Mode Dial
Metering Mode
Exposure Compensation/Flash Mode button
AE/AF Lock ISO, Qual, WB buttons on base of camera body
Main Command knob
Sub Command knob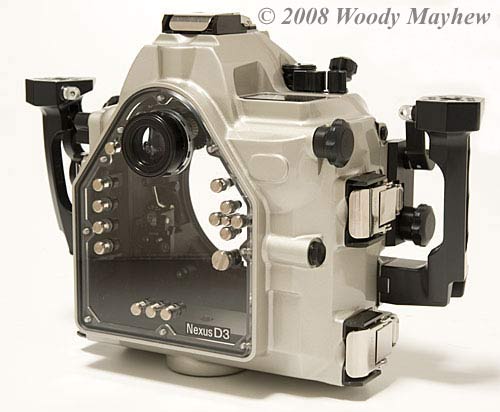 D3/D3x Housing Body Rear View
Other features include:
On/Off Button
Aperture Knob (apertures are selected inside the camera body with this knob)
Focus/Zoom knob with lockout for Autofocus when using a manual focus gear on the lens
Twin TTL Strobe Sockets are standard equipment
Optical pick-up finder to allow full, corner to corner view of the camera's viewfinder
image and data
Two External Accessory Ports
The Nexus D3/D3x housing body comes with:
Attached Handles
Wrench Set
Hot shoe TTL cable
O-ring Grease
Spare Body O-ring
Operator's Manual
Warranty