Nexus D700 Housing Body


Nexus D700 Housing
(shown with no port attached)

The new Nexus D700 housing for the Nikon D700 series of Digital SLRs is now available.

This light and compact D700 underwater camera housing is made from marine grade aluminum alloy.

Dimensions are 313mm x 178mm x 1131mm (W/H/D). Weight is 4.59 lbs. in air. The housing is rated to 246 ft/ 75 m.
Nexus D700 Housing Features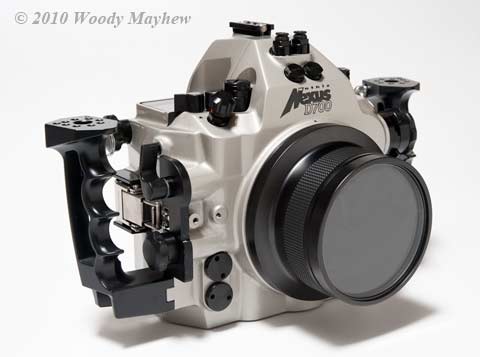 Shown with MP-50C-4 Macro Flat Port - Not Included
The Nexus D700 housing body is equipped with:
Push Buttons or levers to access functions on the D700 camera:

Four corner Multi Selector control
AF Area Mode Selector
Monitor button for image review
Menu button
Thumbnail button
Protect button (Key Icon button on camera)
Enter button
Focus Area Lock Switch
Format/Delete button
Shutter Release and AF Hold lever
Mode Dial
Metering Mode
Exposure Compensation/Flash Mode button
ISO, Qual, WB buttons on base of camera body
Main Command knob
Sub Command knob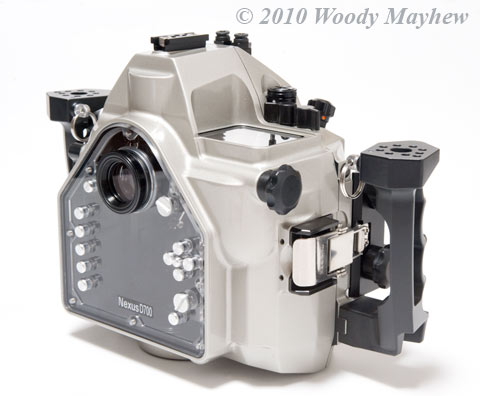 Other features include:
On/Off Button
Aperture Knob (apertures are selected inside the camera body with this knob)
Focus/Zoom knob with lockout for Autofocus when using a manual focus gear on the lens
Two TTL Strobe Sockets and two Optical Bulkheads are standard equipment
Optical pick-up finder to allow full, corner to corner view of the camera's viewfinder
image and data
Two External Accessory Ports
The Nexus D700 housing body comes with:
Detachable Handles
Wrench Set
Hot shoe TTL cable
O-ring Grease
Spare Body O-ring
Operator's Manual
Warranty
Nexus D700 housing body price - $3550.00
New Inon Rotateable Optical 45° or Straight Viewfinders are available as a retrofit for the D700 housing body - Now User Installable - $855.00ea
Contact Nexus America for additional information or to purchase a Nexus D700 Housing from this site.
Visit the MultiPort Page for descriptions and photos of the Nexus Multi Ports.