Nexus D2 Housing Body


Nexus D2 Housing
(shown with optional
MP-60-4 port)

The new Nexus D2 housing for the Nikon D2 series of Digital SLRs is now available. It will fit the D2x, D2h, and D2hs cameras.

This light and compact D2 underwater camera housing is made from marine grade aluminum alloy.

Dimensions are 327mm x 225mm x 125mm (W/H/D). Weight is 6 lbs. in air. The housing is rated to 246 ft/ 75 m.

here are two models of Nexus D2 housings. One model will fit the F4 size ports, and one model will fit the N90 Master, F-100, D-100, and D70 housings. They are identical in features and dimensions otherwise.



Nexus D2 Housing Features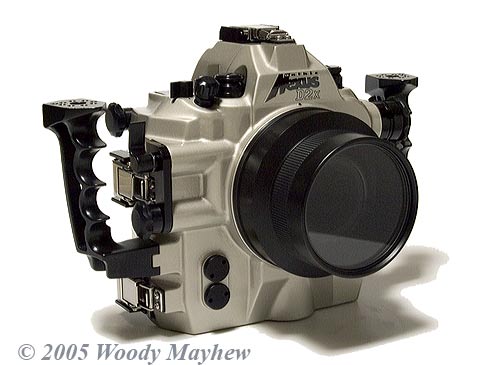 The Nexus D2 housing body is equipped with:
Push Buttons or levers to access functions on the D2 camera:

Four corner Multi Selector control
AF Area Mode Selector
Monitor button for image review
Menu button
Thumbnail button
Protect button (Key Icon button on camera)
Enter button
Focus Area Lock Switch
Format/Delete button
Shutter Release and AF Hold lever
Mode Dial
Metering Mode
Exposure Compensation/Flash Mode button
AE/AF Lock
ISO, Qual, WB buttons on base of camera body
Main Command knob
Sub Command knob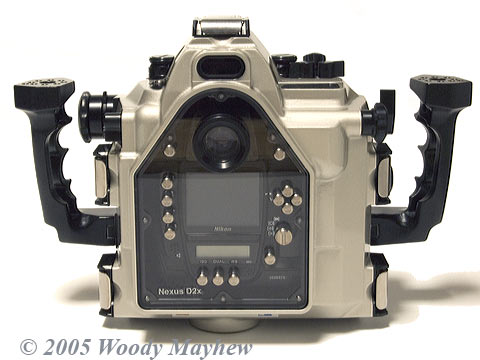 Other features include:
On/Off Button
Aperture Knob (apertures are selected inside the camera body with this knob)
Focus/Zoom knob with lockout for Autofocus when using a manual focus gear on the lens
Twin TTL Strobe Sockets are standard equipment
Optical pick-up finder to allow full, corner to corner view of the camera's viewfinder
image and data
Two External Accessory Ports
The Nexus D2 housing body comes with:
Attached Handles
Wrench Set
Hot shoe TTL cable
O-ring Grease
Control Label Decals
Spare Body O-ring
Operator's Manual
Warranty
Nexus D2 housing body price - $3742.00
Contact Nexus America for additional information or to purchase a Nexus D70 Housing from this site.
Visit the MultiPort Page for descriptions and photos of the Nexus Multi Ports.
Email: info@NexusAmerica.com



New Products

UW Photo Equipment

Specials

HOME

Photo Gallery

Parts & Prices

Contact Us


---
© 1998-2005, Deborah Fugitt, City Seahorse, Inc. All rights reserved. No one, for any reason, is permitted to copy the photos, graphics or text on these pages without written permission from City Seahorse, Inc. and Nexus America. In the event that an infringement is discovered you will be notified and invoiced the industry standard TRIPLE FEE for unauthorised usage and/or prosecuted for Copyright Infringement in U.S. Federal Court where you will be subject to pay our court costs and attorneys' fees as well as a fine of US$150,000 statutory damages. Write for permission or information.